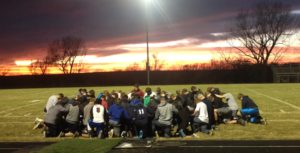 Saturday Sabetha defeated Marysville in the state championship football game. That evening the Bluejays were dealing with the death of 3 members of one family of two of their teammates.
Topeka Capital Journal story is here.
Another story with picture of mom with her two sons here.
Sabetha Funeral Home Popkess Mortuaries
As the football community of Kansas, we should respond with cards and letters to those boys.